The Abiquiu Area Visitors Guide is a project of
Luciente Inc
. Luciente Inc., is a charitable community based organization whose mission is to foster education, economic development and the arts within our service area in Northern New Mexico, the Highway 84 corridor from Rio Chama northwest to Ghost Ranch, north along 554 to El Rito and west along 96 to Gallina.
The guide is available at local businesses and visitors centers throughout the state. The complete guide can be
downloaded here.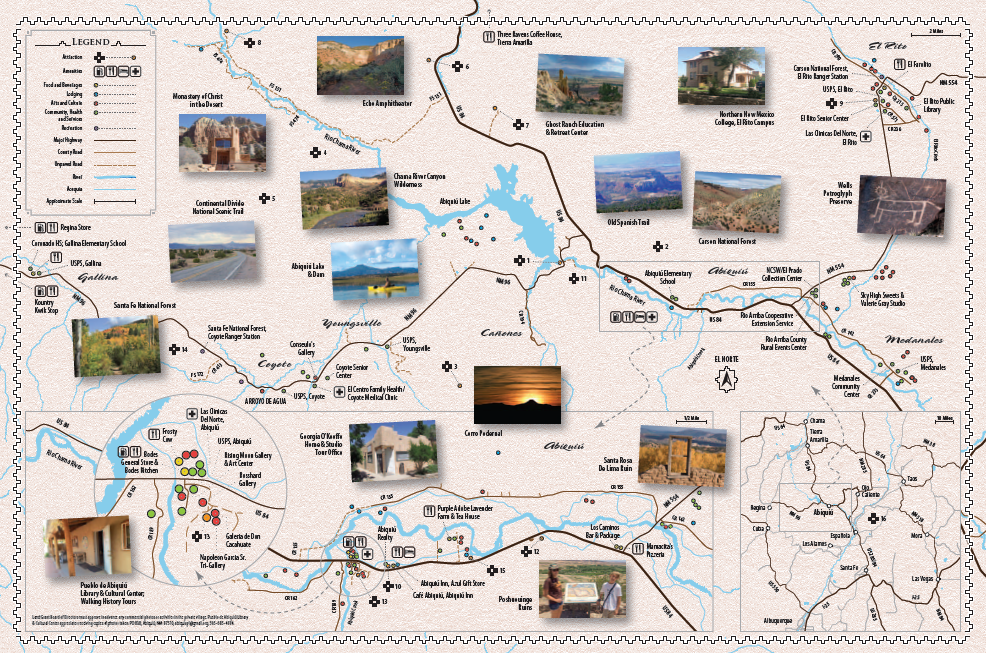 Attractions
1) Abiquiú Lake & Dam: Panoramic views surround the 5,200-acre lake. Its Riana Campground offers RV & tent sites, playground, well-marked hiking trails, picnic areas, boat ramp & swimming area. Managed by Army Corps of Engineers. Visitors Center, west of US 84 on NM 96. 505-685-4371. Hours: M-F 8-4.
2) Carson National Forest: El Rito, gateway to forest, is a ranching, farming & artistic community. Wide vistas, open meadows, forests, waterfalls & dramatic red bluffs including Copper Canyon & the Rim Vista Trail. Fishing, hiking, hunting, rock climbing & primitive camping. US Forest Service camping with facilities by El Rito. Creek. 575-581-4554.
www.fs.usda.gov/carson
3) Cerro Pedernal: This distinctive flat-top mesa, south of Abiquiú Lake off NM 96, rises 9,862 feet. Forest Service roads climb through spectacular red cliffs, aspen forests & open meadows, providing fantastic views of the Rio Chama valley & surrounding areas. Ruins of the ancient pueblo Tsip'in-owinge, circa 1275-1450, are only accessible by difficult trails. Hikers must obtain permits from the Coyote Ranger District, 575-638-5526.
www.geoinfo.nmt.edu/tour/landmarks
4) Chama River Canyon Wilderness: The Rio Chama provided sustenance to puebloan ancestors, Spanish settlers & modern-day farmers. This remote area is a special place of beauty & ecological importance. The lower section, along Forest Service Rd 151 (2.5 miles north of Ghost Ranch on US 84), is popular for hiking, day trips & camping. BLM website lists approved rafting companies.
5) Continental Divide National Scenic Trail: Stretches 3,100 miles between Canada & Mexico. Some 770 miles meander through parts of NM's most spectacular natural & historic landscapes. The trail passes through Santa Fe National Forest. Much of the 87-mile section in the Carson National Forest is still under construction by volunteers. While the route is flagged, hikers must use GPS so they won't get lost. Coyote Ranger District, SFNF, 575-638-5526.
www.continentaldividetrail.org
∙
www.fs.fed.us/cdt
6) Echo Amphitheater: A natural walled arena of sandstone creates an echo chamber. Includes a paved hiking trail, picnic area, group shelter & campsites. North of Ghost Ranch 3 miles on US 84. Canjilon Ranger District, 575-684-2489.
7) Ghost Ranch Education & Retreat Center: 21,000 acres of dramatic cliffs, red hill & rock formations that inspired Georgia O'Keeffe, Ansel Adams & continue to ignite our creative spirit. Tours: O'Keeffe landscape, archeology & paleontology museums, movie sites. Horseback riding, labyrinth, hiking trails, lodging, camping, transformational workshops & gift shop. Northwest of Abiquiú 13 miles on US 84. 505-685-1000.
www.ghostranch.org
8) Monastery of Christ in the Desert: A remote Benedictine monastery in Chama River Canyon Wilderness. George Nakashima, Japanese-American architect, designed the adobe church. All buildings are ecologically friendly, sustainable & powered by solar energy. Guesthouse, gift shop & bookstore. Visitors of all (or no) faiths are welcome to enjoy silence, solitude & prayer services. US 84, 2.5 miles north of Ghost Ranch, left on Forest Service Rd 151; 13 miles on unpaved road beside Rio Chama. Daily, 8:30–6.
www.christdesert.org
9) Northern New Mexico College, El Rito Campus: Established in 1909 as a Spanish-American normal school & teacher training center for Spanish-speakers. Today the campus is dedicated to preserving the rich cultural & linguistic heritage of northern NM & training students in skills that provide meaningful careers. Courses in fiber arts, weaving, Spanish colonial furniture, bulto & retablo carving, tinsmithing & a unique Spanish Immersion Institute. Year-round space for group meetings, retreats, workshops & conferences; lodging in residence halls & meals. 575-581-4100. Site Coordinator, 575-581-4145. Hours: M-F 8-5.
10) Georgia O'Keeffe Home & Studio: Small group tours of the famous artist's home that has been on the National Register of Historic Places since 1998. Starting at Tour Office beside Abiquiú Inn on US 84. Mid-March through late November. By Reservation. 505-685-4539.
www.okeeffemuseum.org
11) Old Spanish Trail: An important trade route between Santa Fe & Los Angeles since 1829. Antonio Armijo led the first of many commercial caravans from Abiquiú westward following a route just north of NM 96. Abiquiú was last stop for supplies, trade goods & to receive a priest's blessing. For over 20 years, Mexican & American traders followed variants of Armijo's route. This network of indigenous (Ute, Paiute,Comanche, Navajo & Genízaro ) footpaths, early trade routes, horse & mule trails became known collectively as the Old Spanish Trail. Obtain an official stamp of the National Park Service Historic Trail Passport Program at Abiquiú Library & Cultural Center.
www.oldspanishtrail.org
12) Poshuouinge Ruins: Ancestors of local Tewa people built this large pueblo on a mesa above the Rio Chama around 1400. First excavated by archeologists in 1919, the city had two main plazas, a large kiva & about 700 ground-floor rooms, most rising two or three stories. The site is accessible by a steep, scenic half-mile hiking trail. Please remember it is disrespectful & illegal to remove any building stones or artifacts. On US 84, about 2.5 miles south of the Abiquiú post office. Española Ranger District, SFNF, 505-753-7331.
13) Pueblo de Abiquiú Library & Cultural Center & Walking History Tours: In a 100-year-old adobe across the Abiquiú Plaza from Santo Tomas church, this community library sponsors events for all ages. Media center houses a digital repository including timelines & genealogy gathered from youth projects with oral history interviews. Walking history tours offered by local guides through this private village (over 16,000 acres, entered at top of mesa above Abiquiú post office) stress their Genízaro ancestors' contributions as captives, warriors, landowners, farmers & traders. Tours $20/person. Book reservations through the Library, 505-684-4884. Hours: Su-Th 1- 6.
www.abiquiupl.org
14) Santa Fe National Forest: Includes the Sangre de Christo, Jemez & San Pedro Mountains, the Rio Chama & San Pedro Parks Wilderness Areas. Elevations range from 6,000 to 13,000 feet. Wide selection of recreational opportunities from scenic drives to primitive backcountry adventures. Hiking, fishing, hunting, horseback riding, swimming, skiing, camping & archeological ruins. Coyote Ranger District, 575-638-5526.
www.fs.usda.gov/santafe
15) Santa Rosa De Lima Ruin: Named after the first canonized saint of the Americas. Built about 1735 by early Spanish settlers who, for defensive reasons, later moved up into the Abiquiú Pueblo. Please be observant of cultural & religious values.No pets, please. SE of the Abiquiú post office 2 miles on US 84. All commercial photographs must be cleared in advance by Parish of Santo Tomas, 505-685-4462.
16) Wells Petroglyph Preserve: The largest petroglyph site in New Mexico. See amazing rock art from 7500 years ago to the present. North of Ohkay Owingeh Pueblo. Docent-led public & private tours. Donations appreciated. Reservations:
www.mesaprietapetroglyphs.org
, 505-852-1351.
We remind visitors to respect those who live here–their property and their privacy–and
remember the land is fragile. Leave no trace of your visit except your smiles.
copyright © 2017