Hiking
Check back with us often as we add hikes or send in your favorite
---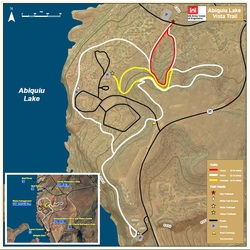 The Abiquiu Lake Vista Trail

System begins behind the visitors center at the Dam.
Take Highway 84 north to US 96, turn left on continue on the the Abiquiu Dam

The Abiquiu Lake Vista Trail system offers miles of sustainable single track. It was built by rangers and hundreds of volunteers. It is a stacked-loop design that allows users to determine distances by connecting various lengths of trail loops.

Click on the Map to download a PDF Trail Guide
---
---
Poshuouinge
distance .5 mile, well marked
Santa Fe National Forest

Poshuouinge (pronounced "poe-shoo-wingay") is a large ancestral pueblo located on U.S. Route 84, about 2.6 miles south of Abiquiu. Its builders were the ancestors of the Tewa Pueblos who now reside in Santa Clara Pueblos and San Juan Pueblo. Poshuouinge was built on a high mesa, some 150 feet above the Chama River, around 1400. There are two springs located about 500 feet to the south of the ruins which are believed to have been the main water sources for the habitation. It is accessible by a United State Department of Agriculture Forest Service trail.

This city, at its largest, consisted of about 700 ground floor rooms, most being two or even three stories tall. The city was laid out with two main plazas, and a large kiva near the center of the eastern courtyard.

The Ruin trail takes you up to and across a level area where the ruins are located. The first vista area gives you an overview of the ruins. Catch your breath in the ramada and then continue on to the top of the mesa fronting the ruins. This is perhaps the most accessible and scenic view of the Chama River Valley.

The trail is short but steep. Take only pictures and please stay on the trail.
---
---
---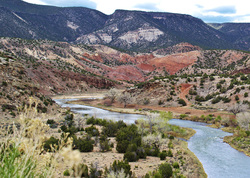 Old Spanish Trail
Distance 7 miles
From the north the trail begins beneath the Abiquiu Dam

The Old Spanish Trail is a 7-mile corridor that connects Abiquiu Dam to the Pueblo de Abiquiu. Originally used by Antonio Armijo in 1829 as a trade route to Southern California, it is now a seldom-used single lane dirt road that runs along the beautiful canyons of the Rio Chama. This is a very difficult road to drive, at best. It's a great mountain bike ride.

---
---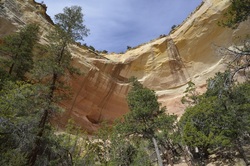 Echo Amphitheater
Carson National Forest
1/4 mile

On Highway 84-from from the Ghost Ranch 3 miles. Located on the west side of the road, right off of Highway 84.

Attractions and Considerations:
The Echo Amphitheater Trail is a local favorite. There is a covered picnic area and camping. Small day use fee. The trail from the parking lot to Echo Canyon is asphalted. The trail ascends at a moderately easy pace. The last part of the trail has stairs leading up to the Echo Canyon. Rocks are a natural habitat for snakes, so stay on the trail and off the rocks.

---
---
---
copyright © 2017